Barche de Carta: Zuèca short film Festival
07 Settembre 2018

16:00

-

09 Settembre 2018

19:30
Esposizioni 2018
CIRCOLO R.NARDI
Calle Spini, 432 - Giudecca 30133 Venezia, Italia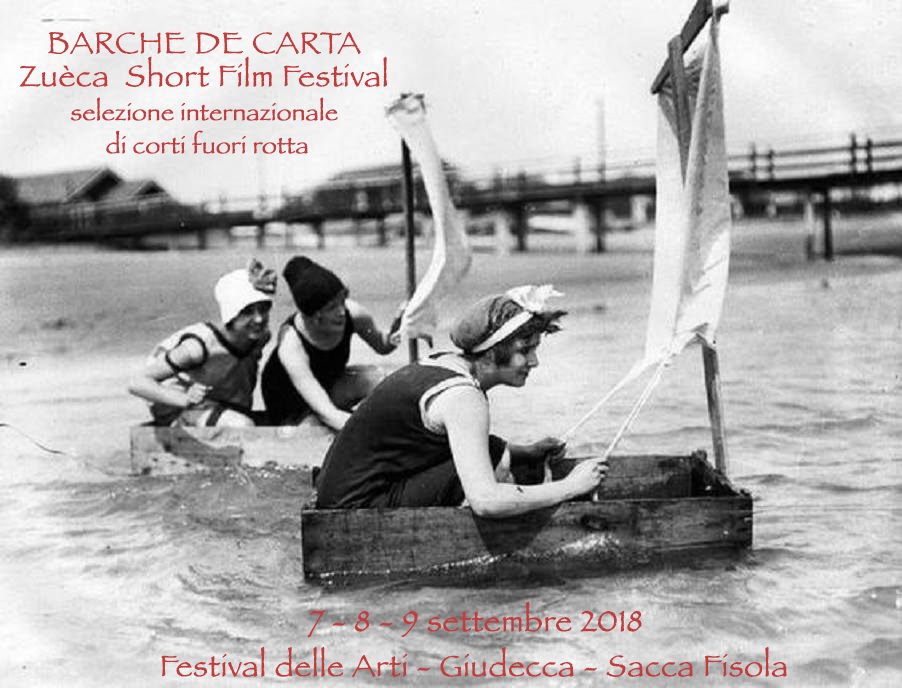 In occasione del Festival delle Arti della Giudecca…
Barche de Carta: Zuèca short film Festival!
Selezione internazionale di corti dal mondo
a cura di Camillo Valle!

PROGRAMMA (in loop nei tre giorni del Festival):

SOBRE SALVAJES – INCIPIT by Camillo Valle (Italy) - 2 min
The Pemones of the Gran Sabana call dew Chirïké–yeetakuú, which means Saliva of the Stars…

TICHO by Adriana Ronquillo (Mexico) – 17 min
Ticho is a story of a young man who descends to the depths of the Earth. It is the story of love and innocence as they face the absurdity of violence, and of the conflictive relationship between humans and nature. As we accompany Ticho on his journey, we will find the madness that grows underneath the piling wreckage of progress.

GALLUS GALLUS by Clarissa Duque (Venezuela) - 12 min.
Maybe, some time ago, he had a family. Maybe once, some time ago, he was loved. Today he is only a shadow, lost amongst all the shadows of the days that begin and no one sees. Until one morning, life walks into his soulless world, and his life changes, and imaginary seas cross each other, and kites play in the sky of a metropolis, Caracas, that is now seen with new eyes, discovering the grace of the daily life.

THERE IS NO POETRY HERE by Kalinga Deshapriya (Sri Lanka) 10 min
In Sri Lanka, the public responds to violent oppression by the government with violence. Following the images of violence back to back, a determined man stands up. To resist this repetition of violence, he makes a final declaration to the world in front of a camera. This film is a declaration on violence made by experimental technique using video clips.

ARASH by Maral Pourmandan (Iran) - 10 min
Arash is the character who symbolizes freedom in Persian mythology. The film speaks of the return of Arash in the heart of Tehran today all the while tracing the labyrinth inversely following a path he had once lead.

STAND-BY OFFICE by Randa Maroufi (Marocco) – 14 min
The video introduces a group of people within an office building. As an inventory of everyday office work gestures, we see among others a receptionist on the phone, a man in his office sorting files, a work meeting ... Gradually unusual new situations occur and change our relationship to this common space.

R.I.P. PRIVACY by Aycan Basar (Turkey) - 5 min.
A satirical humor of our very much connected life.

DEL CIEGO DESERT by Francois Leduc (Canada) - 13 min.br> At Del ciego desert, two gunfighters plagued with squint duel in order to avenge the massacre of their own families.